3 décembre 2010
5
03
/

12
/

décembre
/

2010
13:09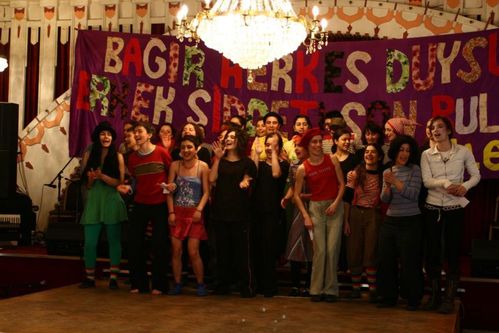 Dear lesbians and other womyn!
This is a proud invitation to the lesbian and womyn circus project "Tentabulles"!
After a little stress with the politics of the organization group for next year meeting, we are happy to tell that TENTABULLES 2011 WILL BE IN BARCELONA !!
Like always: only and all for lesbians and other womyn.
We will create a show in 10 intensive days for the 8th of March. We meet around the 27th in Barcelona!
We are going to be between 15 to 22 Womyn and Lesbians according to the place. The meeting is self-organized. But don´t worry, the meeting exist since a while, and we already have some know-how...
It is not necessary to have a big circus background to join, every lesbian and womyn motivated by an experience of circus is welcome. If you are a circus artist, we are also happy, you will´finally meet some circus feminists, and don t worry you will not have to give a workshop ! ;0) It is nice when each knows a bit about what she would like to exchange/try/learn .
"Tentabulles" is more focused onhow we create something together, as feminists and for a feministshow as on the level skills. Just relax, we are working hard and funny!!!
This circus meeting is not a workshop meeting: There are just two days of Workshop: most of the years, some lesbians were showing some basics of acrobatics, juggling, clownerie and theater, sometimes dance, trapez, vertical rope and more that I forgot. After that, the big group divide in little groups and work on some scenes for the big show. Two or more lesbians and womyn as artistic directors will help to coordinate the pieces. Therefore, it is important to commit for the 10 days, or try to be there most of the time as possible (and inform the group when you are late or come earlier.)
It is also possible to participate in the process of creation, and help along, and anyway not being on stage if you don t like to. We also need always some participants who like to drive the technical. ( "no techy- no show!")
Think about some ideas and some themes we could already exchange before the meeting. Look for some texts you like to work about, or some references (artists, videos, graphical arts...).
Tell us too, when you would like to show something, what you could bring with you and what you expect from "Tentabulles".
I will do my best to inform you!!
so.. start to check if you want/ can come and tell me as soon as possible!
Feminist greetings and clowness smile,,
regards,
johanna
tentabulles@yahoo.com.au
Published by tentabulles.over-blog.org